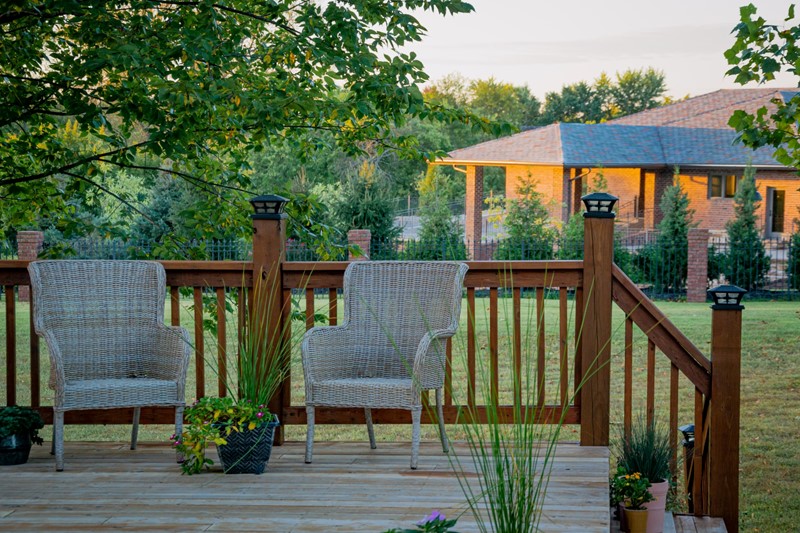 Curb appeal doesn't have to be all about selling your home. Improving the exterior with landscaping and decor is a way to add your personal touch. While homes with front porches have the added advantage of providing an extension of the home's entrance, a porch alone is not always welcoming. There are some simple changes you can make to your porch to make it feel more inviting and truly a personal extension of the home's interior.
Cover the Basics
First, you'll want to make sure you take care of any safety or cleaning issues. Things like rotting wood, chipped paint and loose paving stones may not be obvious eyesores, but they might create hesitation in a potential visitor or buyer. If you have steps to your porch, check your handrails to make sure they are stable. Check and see if the floor surface needs treatment or special cleaning. Take the time to touch up these things first so you have the best possible starting point for additional customization.
A Wreath for the Door
Wreaths are not just for the holiday season. A lush wreath of seasonal greenery or flowers is a great focal point and an easy way to add some plant life to your porch if you don't have room to spare. You can even find or create a wreath of your own using faux flowers from your local crafting store. It will look like the real thing and last throughout the year, regardless of what's in-season.
A Place to Sit
A porch with a place to sit is an invitation to stay awhile. Porches are excellent spots for conversation and enjoying the fresh air and even when not in use a well-furnished porch exudes the same sense of welcome. Depending on the size of your space, you have lots of options. Everything from benches to swinging benches or sets of chairs can make your porch seem more like an extension of your home rather than an outdoor space. Go for durable but timeless materials that can withstand the elements make a statement with something bold.
Make it Cozy
If you have furniture, add some weather-resistant textiles and cushions. This will not only make the seating more comfortable but it will look more comfortable as well. It's also a great opportunity to let your personal style shine with your choice of colors, patterns or motif. Another way to add coziness to the front porch is with a plush door mat. Make the last step from your porch into your house a comfortable one—silly slogans optional.
Another way to add a cozy feel to your porch is with the right lighting. If you're happy with your existing fixtures, try swapping out harsh LED bulbs for soft white LEDs. You want your porch to be well-lit, but not uncomfortably bright.
While decorating your front porch is all up to your preference, keep in mind that for selling a house you may need to shift your strategy a bit. Making your porch inviting is as simple as making it safe, accessible and friendly. The rest is up to you.